A group of House Democrats have introduced a shady bill that would require failed President Barack Obama's official records to be sealed. The bill is sponsored by New York Democrat Edolphous Towns.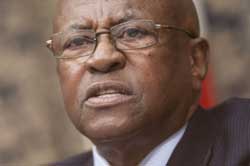 I'd ask what he has to hide, but, given his past behavior, we already know that the answer is 'everything.'  We can't know anything about his life before he ran for the US Senate, and we can't know anything about what he's done since he's been in office.
On the bright side, it sounds like they're pretty confident he won't be reelected in November.
In an obvious effort to protect President Barack Obama, a group of congressional Democrats has introduced legislation to create an official process that will allow the commander-in-chief to keep presidential records secret after he leaves office.

Ironically, Obama revoked a similar George W. Bush order in one of his first official acts as president. In 2001 Bush penned an executive order severely limiting public access to his presidential records. Shortly after swearing in, Obama killed it as part of his much-ballyhooed commitment to government transparency. At the time, the new president claimed that he was giving the American people greater access to "historic documents."