President Donald Trump announced that he is launching an investigation into massive Democrat vote fraud that he says cost him the popular vote in his successful election bid against failed candidate Hillary Clinton last November.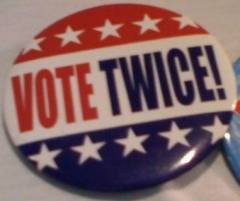 Trump announced the probe on Twitter.
I will be asking for a major investigation into VOTER FRAUD, including those registered to vote in two states, those who are illegal and….

— Donald J. Trump (@realDonaldTrump) January 25, 2017
even, those registered to vote who are dead (and many for a long time). Depending on results, we will strengthen up voting procedures!

— Donald J. Trump (@realDonaldTrump) January 25, 2017
The media unwisely baited Trump into conducting this investigation by screeching that there was no evidence for Trump's repeated claims that three to five million people illegally voted in the 2016 Presidential election every time it's brought up.
The Daily Caller reports that a study by two professors at Old Dominion University found that somewhere between 38,000 and 2.8 million illegal aliens fraudulently voted in the 2008 election.
"In spite of substantial public controversy, very little reliable data exists concerning the frequency with which non-citizen immigrants participate in United States elections. Although such participation is a violation of election laws in most parts of the United States, enforcement depends principally on disclosure of citizenship status at the time of voter registration," Richman and Earnest note.

"We find that some non-citizens participate in U.S. elections, and that this participation has been large enough to change meaningful election outcomes including Electoral College votes, and Congressional elections. Non-citizen votes likely gave Senate Democrats the pivotal 60th vote needed to overcome filibusters in order to pass health care reform and other Obama administration priorities in the 111th Congress," they continue.
Non-partisan voting integrity watchdog group True The Vote, which is conducting its own study of vote fraud, backs up Trump's claim specific to the 2016 election.
"True the Vote absolutely supports President-elect Trump's recent comment about the impact of illegal voting, as reflected in the national popular vote. We are still collecting data and will be for several months, but our intent is to publish a comprehensive study on the significant impact of illegal voting in all of its many forms and begin a national discussion on how voters, states, and the Trump Administration can best address this growing problem."
There is very little risk here for Trump.  We absolutely know that Democrats are conducting mass voter fraud because we have them on tape admitting it.
In an undercover video produced by James O'Keefe's Project Veritas (PV), the Democratic commissioner of the Board of Elections in New York City is heard acknowledging, "I think there is a lot of voter fraud."

Commissioner Alan Schulkin tells an undercover investigative journalist, "Like I say, people don't realize certain neighborhoods, in particular, they bus people around to vote… They put them in a bus and go poll site to poll site."

Project Veritas met Schulkin in December of 2015 at the United Federation of Teachers (UFT) Christmas Party.

When the PV journalist asks Schulkin whether the types of "neighborhoods" where "they bus people around to vote" are "minority neighborhoods, like black neighborhoods and Hispanic neighborhoods," he replies, "Yeah, and Chinese too."

"Why do they do that?" asks the journalist. "Just to get more votes for the Democrats?"

"For more votes," says Schulkin. "More votes for themselves. They're all running for office… They get buses and they move people around."

When the PV journalist asks Schulkin about the fact that New York has no voter ID laws, he responds, "No, you can't. You cannot ask. They can't ask for voter ID. It's the law. The law says you can't ask for anything, which they really should be able to do. You know I don't think it's too much to ask somebody to show some kind of an ID."
Locally, an investigation by 6ABC that just scratched the surface in Philadelphia found that dead people were routinely voting in that city.
Republican candidate Donald Trump has made allegations of fraud at polls in the City of Philadelphia.

So, Action News dug through a decade's worth of election and death records to see if there was any truth to the claim.

Some of what Action News investigation found was stunning.

Rita A. Pezzano, who passed a decade ago, was found listed as an active voter. Her daughter-in-law was shocked when we shared the news.

"I was about seven months pregnant when she died," said Audrey Marchiano.

"So she has been dead about 10 years now?" asked Investigative Reporter Wendy Saltzman.

"Yes," said Marchiano.

Pezzano passed in 2006. But state voting records show the South Philadelphia native still listed as an "Active Voter" who cast ballots in 2008, 2012, 2014, and the 2016 primary election.
It goes on from there.