Republican front runner Donald Trump's campaign has announced that he will not be participating in the debate FOX News will be hosting Thursday night.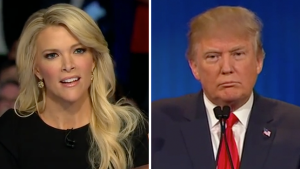 The move follows several antagonistic actions by debate moderator Megyn Kelly over the past week and a taunting press release by the news organization earlier today.
"He's definitely not participating in the Fox News debate," [Trump campaign manager Corey] Lewandowski said. "His word is his bond."

He said Trump would remain in Iowa as planned and would instead host a event in the state to raise money for wounded warriors and other veterans groups.

Trump has made such threats before, but he said that the Fox News Channel had gone too far by issuing press statements on Tuesday that he said kicked his concern about Megyn Kelly, one of the debate co-moderators.

When Trump saw the press release from Fox, "I said, 'Bye bye,'" he said.
During the last debate hosted by FOX, Kelly baited Trump with out of context statements he had made about various celebrities. She hosted a scowling panel of National Review columnists to promote their "Against Trump" smear issue last week, and had Glenn Beck on her show for 20 minutes Monday night to slam Trump.