Cheating New England Patriot quarterback Tom Brady has been suspended without pay for 4 regular season games following a league finding that he was aware the team was using partially deflated balls.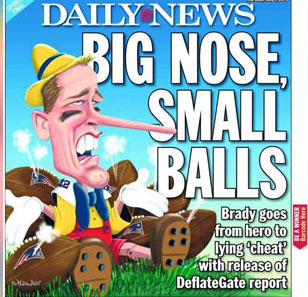 The league found that Brady had engaged in "conduct detrimental to the integrity of the NFL." The team itself has been fined $1 million and stripped of some draft picks.
The Patriots were accused following the AFC Championship game in January of intentionally deflating footballs. In explaining Monday's discipline announcement, the NFL said the team was penalized for "the violation of the playing rules and the failure to cooperate in the subsequent investigation."

[…]

"In this case, the footballs were intentionally deflated in an effort to provide a competitive advantage to Tom Brady after having been certified by the game officials as being in compliance with the playing rules," Vincent wrote. "While we cannot be certain when the activity began, the evidence suggests that January 18th was not the first and only occasion when this occurred, particularly in light of the evidence referring to deflation of footballs going back to before the beginning of the 2014 season."
Apparently we're going to continue to pretend that Brady and the Patriots won their 4 Superbowls, including the one this year that they got to by cheating in the conference championship game, fairly.