Timothy "AA+" Geithner has informed failed President Barack Obama that he will be staying on as Treasury Secretary despite S&P's historic downgrade of America's credit rating.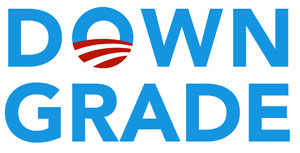 S&P downgraded the country's credit rating one notch Friday night, from AAA to AA+, citing the administration's unwillingness to reign in entitlement spending, which S&P called "key to long-term fiscal sustainability." No President or economic team from either party has ever before presided over the downgrade of the nation's credit.
Back in April, Double-A Tim told FOX Business that there was "no risk" the US would lose its AAA credit rating.  Pure. Genius.
"Secretary Geithner has let the president know that he plans to stay on in his position at Treasury," a Treasury spokeswoman said in a statement.

Geithner plans to stay at least into the fall of 2012, an administration official told CNN.

White House Press Secretary Jay Carney said that the president had asked Geithner to stay and "welcomes his decision."
Of course he welcomes the decision.  Obama isn't smart enough to destroy the country's credit rating and economy on his own.  He needs guys like Geithner there to tell him what to do.