Democrat Hamilton County Ohio Sheriff Jim Neil heard some bad, bad thoughts about Making America Great Again on Sunday and was made to publicly apologize for letting those thoughts in through his ear holes.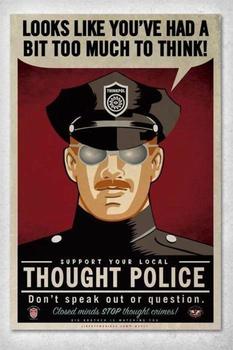 The purge is real.  "Are you now or have you ever been a passenger on the Trump Train?"
"It was selfish on my part because I didn't take into consideration the other candidates on the Democratic ballot that are going to be running with me because this could not just impact my votes, but it could impact the votes on anyone on the Democratic ballot. I want to apologize for my actions," said Neil.

"I've been a police officer since 1981. I was elected as sheriff in 2012. I'm still performing as a peace officer. I'm not comfortable in the skin of a politician. What you get with Jim Neil is what you get. I'm a public servant … public safety is my priority."

Neil repeatedly said Monday he attended the Trump rally to show appreciation for Trump's support of law enforcement.
Just in case you have any illusions that the punishment of "wrong" thought is exclusive to authoritarians on the left, the ostensible right has some blacklisters of its own.
For posterity, I'm coming up with a list of prominent conservatives who betrayed conservatism for Trump. Suggest names so I don't miss any

— Matt Walsh (@MattWalshBlog) March 11, 2016
It's not justice unless is social justice.