Cheryl Bremble, a 40-year old Hatboro resident who teaches at Upper Dublin High School in Montgomery County, was arrested Friday and charged with having sexually charged lesbian electronic and face-to-face conversations with a female student at the school.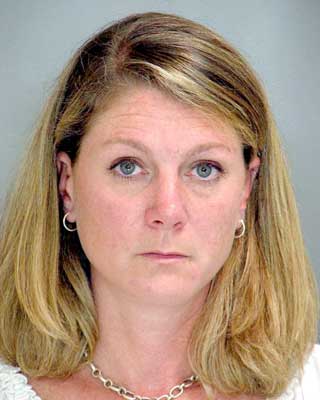 Police say Bramble also bought the unnamed student whose age was not released expensive gifts and a vibrator, and seemed very interested in discussing the child's usage of it.  The alleged Weiner-like contact is reported to have continued from October 2010 through last month, when the student tearfully reported it to her father.  They say Bremble has admitted to inappropriate messages and having given the girl the vibrator, which authorities say happened "on school property during class hours."
The girl, in tears, on May 27 went to her father and told him that Bremble had been sending her sexual text messages, telling the girl that she was bisexual and that she thought the girl was "hot."

The student also told her father that Bremble had given her a vibrator several months before and sent her multiple text messages encouraging to use it, according to the criminal complaint. The girl's parents contacted authorities on May 31.

The criminal complaint included several of the alleged text messages, including one about the vibrator that said: "And don't ever say I won't try it, cause u will experience something wonderful…"

The girl also told a county detective that Bremble had numerous sexually explicit face-to-face conversations with her. Bremble gave the girl details of Bremble's relationship with her boyfriend.
Remind me again how its only the best, brightest and most vital pillars of our society who get into the public education racket.  A site called School Teacher News has compiled a list of 219 publicly reported proven and alleged sexual scandals involving teachers so far this year, to compliment the reported 411 in 2010, 464 in 2009 and 478 in 2008.
Update: Special-Education student.  Wow.  Just wow.
Cheryl Bremble, a 40-year-old special-education teacher, "encouraged the juvenile to use the device on numerous occasions during text-message conversations," said Montgomery County District Attorney Risa Vetri Ferman and Upper Dublin Police Chief Terrence Thompson.

Ferman called the crime "particularly repulsive when you consider the fact you're dealing with a vulnerable child in the special-education program."