PBS and the Sesame Workshop announced Friday that they were adapting Cee Lo Green's controversial hit "F**k You" for use in Sesame Street.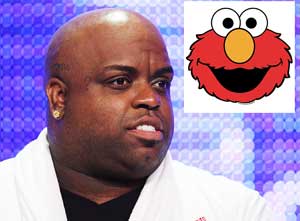 Green will perform a modified version of the song, with lyrics designed to teach the alphabet to unsuspecting pre-schoolers, on both the televised version of Sesame Street and a subsequent DVD release entitled "Elmo Sings Letters, Numbers and Shapes."
This is disgusting.
"We are proud to have Mr. Green join the long list of celebrities such as Hillary Clinton and Rita Moreno who have seen the importance of our mission to teach pre-schoolers fundamental skills," said Sesame Workshop CEO H. Melvin Ming.  "It is an honor to be able to use his blockbuster hit to help make learning interesting to and fun for children."
Sesame Workshop released a few disturbing lines of lyrics from the modified version of the song.  The accompanying video shows Cee Lo Green, dressed in his usual flamboyant manner, walking down Sesame Street with animated letters and numbers popping up around him.  They're clearly not even trying to obscure the original lyrics to the song at all. Green even spells out an obscenity phonetically within the song.
Well when I walked down the street
what did I see
Letters "F" and "U"

And when I reached in my pocket
what did I find
Letters "F" and "U" and the Letter "Q"

Well it doesn't get better
than letters together
They make a hit (They make a hit)

And when you're spelling the best
You'll be put to the test
With letters "F" and "U"