Sesame Street will unveil an impoverished Muppet named Lily to teach children about the Obama-era hunger epidemic.
Lily will debut on an October 9 special highlighting poverty and hunger problems that have exploded under Food Stamp President Barack Obama's decimated economy.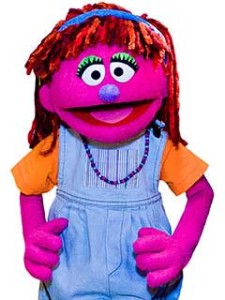 The special, entitled Growing Hope Against Hunger, will be hosted by Brad Paisley and Kimberly Williams Paisley, is sponsored by eeeeevil corporation Wal-Mart, and will air in prime time.
"Food insecurity is a growing and difficult issue for adults to discuss, much less children," said the Paisleys in a statement. "We are honored that Sesame Street, with its long history of tackling difficult issues with sensitivity, caring and warmth asked us to be a part of this important project."