In case telling an Army Corps of Engineers officer not to call her "ma'am" because she'd worked so hard for the title "Senator" wasn't enough of an indication of how self-important California Democrat Senator Barbara Boxer is, how about forcing two paid staffers whose combined salary is nearly $150,000 a year to act as human easels, holding a pointless sign behind her on the Senate floor?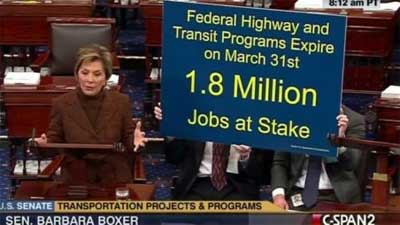 Boxer, on her never ending quest to spend more borrowed money, needed visual representation to make a point, and having these two hold up a sign with one figure on it was apparently the only way.
The gentleman on the left, David Napoliello, makes $80,083.28 a year to be humiliated by Boxer.  The guy on the right, Andrew Dohrmann, sells his soul to Ma'am for $69,642.80.
Assuming a 52-week work year at 40 hours, and assuming the entire process of hauling and holding the sign took only 1/2 hour of their time, 1 instance of Boxer's human easel trick cost about $36. Normal non-human easels that could have fit on the chairs cost about $16 and are reusable.
Just keep in mind, there is nowhere left to cut government spending.  N O W H E R E.  There is no wasteful spending, and any future cuts would be draconian.
On the bright side of being an aide to Barbara Boxer, the screening process isn't too tough, and you always run the chance of attaining some notoriety.  For example, you may remember that one former San Francisco staffer was sent to prison for 5-years after the FBI found hundreds of pornographic pictures depicting prepubescent boys on his computer.