A second woman has come forward in the Weinergate scandal, giving Andrew Breitbart's Big Journalism information about intimate emails and photographs she has allegedly exchanged with married Democrat Congressman from New York Anthony Weiner.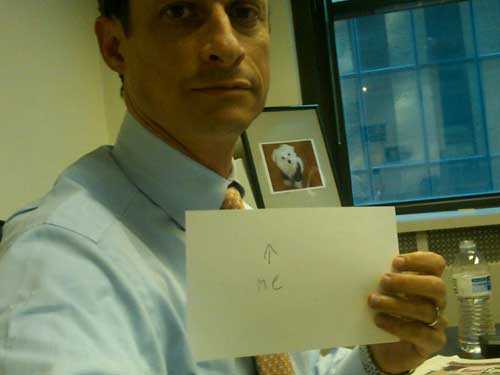 Big Journalism will be releasing details and exhibits throughout the day, although the site is holding back portions of the huge information cache citing its "extreme graphic nature."  The "me" picture is the first release.  Cute dog.
The detailed new information suggests that the Brooklyn- and Queens-based representative and the young woman in question were involved in an online, consensual relationship involving the mutual exchange of intimate photographs.

BigGovernment.com and BigJournalism.com were approached regarding this information more than a week prior to the separate, independent event of Friday, May 27, 2011, when a link to the now-infamous "gray underwear" photograph appeared publicly on Rep. Weiner's Twitter feed.
Although Weiner claims that he could not state "with certitude" that the "erection in underwear" photo tweeted from his account Memorial Day weekend to a busty Seattle college coed did not depict him, he insisted that the photo was released as the result of a "prank."
It appears that Weiner thinks "prank" means "my habit of emailing Blackberry boner pictures to young girls."
Resign, Weiner.  Resign.