Donald Trump's Presidential campaign has released details about tomorrow night's event in Iowa, planned in the wake of the GOP front runner bowing out of the FOX News debate.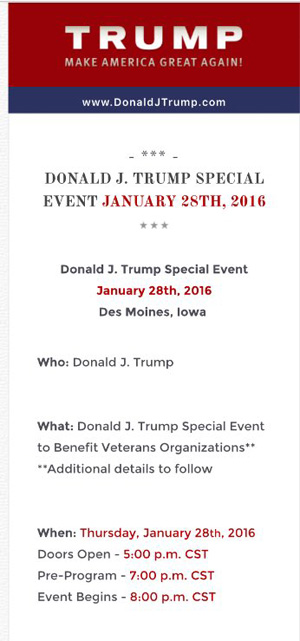 After FOX News issued a snarky press release implying that Trump would be incapable of dealing with foreign leaders as President and it became clear biased moderator Megyn Kelly would not recuse herself from the debate panel, Trump decided not to participate in the debate.  He said he would hold an event to benefit wounded war veterans instead.
Later, Breitbart revealed that FOX had planned an underhanded sneak attack against Trump by inviting a Muslim YouTube activist who compared Trump to Hitler to sandbag the candidate.
"We have a presidential candidate whose loudest message reeks of hatred and Islamophobia… turning on the news now is scary, and oftentimes, humiliating," the Muslim woman, Nabela Noor, says in a December YouTube video.

She admits to becoming a Muslim political activist amid the growing criticism of Islam's doctrines. "The current social environment for Muslims today is not safe or just… as a Muslim American, I felt like I needed to use my voice," she claimed.
The "Donald J. Trump Special Event to Benefit Veterans Organizations" will take place at the exact time of the FOX Debate.  Many believed Trump would come to terms with FOX and wind up participating in the debate.  It appears this will not be the case.  RIP FOX ad revenue.