The students at Rutgers "University" are demanding that their traditional white knight mascot be updated to a series of mascots reflecting the races and genders (apparently there are now more than two) and sexual preferences that make up the "university's" student body.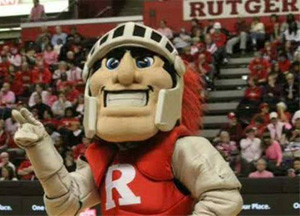 All members of the Washington Redskins organization were just seen banging their heads into a desk moaning, "what do you want from us?"  Yesterday, mascots of different races were bad.  Today they're a social justice warrior demand.  No one can keep up.
The Rutgers Scarlet Knight mascot has existed since 1955.
Rutgers University's newspaper says the student assembly is rallying for a team of Scarlet Knights – a more diverse one they say that includes a Latino, Asian and black mascot, a woman and even third gender knight.

Different student organizations would decide which one represents them best.