One month into a firestorm of ginned up phony outrage over his joke that liberal activist Sandra Fluke was a "slut" for begging Congress to force others into funding her birth control, Rush Limbaugh and his radio show have come out unscathed by the attacks.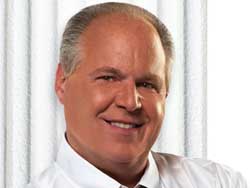 The Washington Post reports that the so-called advertiser boycotts were never as severe as Limbaugh's foes claimed, and have had little to no effect on the profitability of the show or its syndicator Premiere Radio Networks.
On Monday, the 600 or so radio stations that air Limbaugh's program were told by his syndicator, Premiere Radio Networks, to resume running "barter" ads during his program. Stations are required to run these ads in exchange for paying discounted fees to Premiere to air Limbaugh's show. Premiere, which is owned by radio giant Clear Channel Communications, had suspended the "barter" requirement for two weeks in a move widely seen as a way to give advertisers a chance to lie low while Limbaugh was in the news.

[…]

Limbaugh's advertising losses may have been less than media accounts suggested. While more than 100 advertisers told Premiere that they didn't want to be associated with "controversial" radio programs of any kind in the wake of the flap, some of these companies weren't regular Limbaugh sponsors in the first place.

[Media Matters lackey Angelo] Carusone said most of the advertiser exodus over the past month appeared to be among companies whose ads aired only in regional or local markets, he said.

"Contrary to the wishful thinking of the professional special interest groups, reports of sponsors fleeing the 'Rush Limbaugh Show' are grossly exaggerated. In fact, the program retains virtually of all its long-term sponsors who continue to have great success" with the show, said Rachel Nelson, spokeswoman for Premiere.
The left, however, isn't done fantasycasting the demise of Limbaugh's career.
But Steven Biel, director of SignOn.org, a Web site created by MoveOn.org for its petition drive, said the episode will make Limbaugh think twice in the future.

"I suspect his internal editing equipment is significantly amped up," Biel said. "I could easily imagine a scenario in which one more ill-timed comment will get him banished" to satellite radio.
Uh, yeah. Good luck with that.  He seems to have really eased up lately, hasn't he?