WPHT-AM got another little push along its road to irrelevance Monday afternoon as CBS announced that Rush Limbaugh's syndicators have decided to move the highly successful Rush Limbaugh radio show to "another station" in Philadelphia.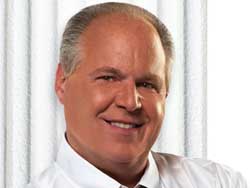 The former "big talker" seems to be on a suicide mission.  They dumped Glenn Beck and Sean Hannity at the beginning of 2011.  Limbaugh was their last brand-name on air talent. People can even listen to Phillies games on WIP-FM now.  What exactly is the use of WPHT anymore?
Premiere Radio Networks, the company that syndicates Limbaugh's afternoon program, has not announced which Philadelphia station will receive Limbaugh's program.  There is speculation that 106.9 WKDN, currently a Christian station, will soon flip to a News-Talk format and pick up Limbaugh.
The owner of WPHT, CBS Radio, said in a statement on Monday afternoon, "Premiere recently notified WPHT they will be syndicating Rush Limbaugh on a new station in Philadelphia. As a result, we are pleased to be able to now showcase Michael, who is a well-known and acclaimed broadcaster in the market, in this new time period."
WPHT plans to air Obama supporter Michael Smerconish in Limbaugh's place.
No one has announced when Limbaugh's show will stop airing on WPHT or when 106.9 will flip formats.  It is believed that 106.9, which was purchased by Merlin Media in February, will stop airing Christian programming on April 15, but it is unclear whether there will be an interim "stunt" format before the talk station launches or not.
Merlin registered several web sites for the station, including FMNewsPhiladelphia.com, FMNewsPhilly.com, and FMNews1069.com.  They've also registered Fox1069.com.
If the new 106.9 decided to pick up Beck, Limbaugh, Hannity and Mark Levin (who currently airs on tape delay on WNTP), they could kill off what's left WPHT in three ratings books.