GrassrootsPA posted a delicious, unlinked tease tonight that I couldn't let go by.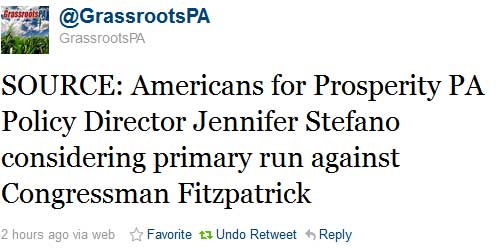 Everyone knows Mike Fitzpatrick's pattern.  Post-election, Mike Fitzpatrick is RINO Mike.  But pre-election, especially during primary season, Mike Fitzpatrick turns into Tea Party Mike. So, in my book, a viable challenger from the right that keeps Fitzpatrick in "Tea Party Mike" campaign mode for as much of his two-year term as possible is a good thing.  At worst, it keeps Fitzpatrick in line.  At best, we get an actual conservative in the 2012 race against the Bucks County Democrats, who have no one.
As we saw in last week's NY-09, the 2010 anti-Democrat tsunami is only accelerating into 2012.  As I contended in 2010, we need to run the most conservative candidate who can win, and it looks like that marker keeps moving to the right.