The National Enquirer (I know — ha ha ha — John Edwards — BOOM) says that Ted Cruz has had 5 mistresses and also suggests he has had encounters with a "wild sex worker."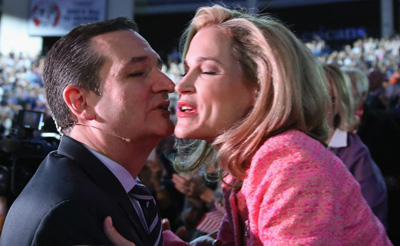 No indication whether the "sex worker" encounters were paid or unpaid, but rumors of a Ted Cruz "hooker problem" have been bubbling under for some time.
The veracity of this kind of thing would be useful to figure out before tearing the party apart at a nominating convention, wouldn't it?
Media on the right was overjoyed to report Obama affair rumors back in 2008.  I wonder if the Cruz rumors will get the same kind of play in the same circles.
"Private detectives are digging into at least five affairs Ted Cruz supposedly had," claimed a Washington insider.

"The leaked details are an attempt to destroy what's left of his White House campaign!"

The ENQUIRER reports that Cruz's claimed mistresses include a foxy political consultant and a high-placed D.C. attorney!
Not for nothing, pictures of Ted and Heidi Cruz seem to suggest a definite awkwardness with affection between the two.