With barely 24 hours to go before tomorrow night's Republican Presidential Debate, FOX News is reported to be scrambling to bring front runner Donald Trump back into the fold just one day after their catty sniping caused him to withdraw.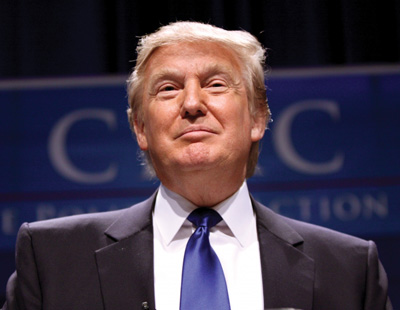 New York magazine reports that FOX chief Roger Ailes was behind the unprofessional late afternoon press release that taunted Trump for objecting to biased debate moderator Megyn Kelly.  In the press release, the channel implied that Trump would be unable to handle world leaders if he were to become President and also speculated that Trump would name his Twitter followers as members of his cabinet.  Earlier in the day, Trump had conducted a Twitter poll to gauge whether his fans wanted him to attend the Thursday night debate.
The controversy follows an earlier debate hosted by FOX where Kelly threw personal barbs at Trump while asking the other candidates policy and political questions.  In the past week, Kelly has hosted a scowling group of columnists from National Review to trash Trump, invited crybaby Glenn Beck on for an unhinged 20 minutes to explain why Trump might as well be the devil, and welcomed far-left filmmaker Michael Moore to give his unflattering opinion on the GOP front runner.  In between, she's taken some time to wonder out loud where Trump might have gotten the impression that she's biased against him. #Journalism.
New signs emerged today at just how frantic Ailes has become to get Trump back to the table. The two men have not spoken since yesterday, sources told me. This morning, Joe Scarborough reported that Ailes called Trump's daughter Ivanka and wife, Melania, to get through to the GOP front-runner. But Trump is saying he'll only talk to Rupert Murdoch directly. In a further challenge to Ailes's power, Bill O'Reilly is scheduled to host Trump. Last night, Ailes directed Sean Hannity to cancel Trump's interview. O'Reilly's refusal to abide by a ban adds a new dynamic to the clash of egos. For O'Reilly, this is an opportunity to take back star power from Kelly. Sources say O'Reilly feels he made Kelly's career by promoting her on his show, and he's been furious that Kelly surpassed him in the ratings.
On his national radio show this afternoon, Rush Limbaugh noted that FOX has been acting as if they have been "left at the altar" and wondered whether FOX expected Trump to "give them the gun, the bullet and stand still."
Media 0, Trump – what is it now – 5? 10?