Facing a Social Justice Warrior backlash over their recent "Beach Body" campaign, the UK's Protein World, my new favorite company, has taken the extraordinary step of actually fighting back.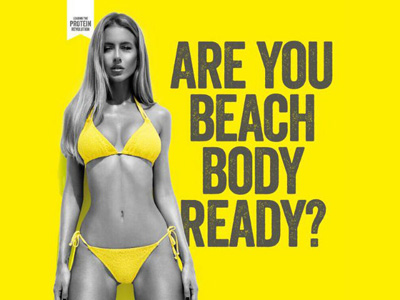 And – let this be a lesson to other companies facing internet bullying from the perpetually offended – they're winning.
Protein World, which apparently produces some sort of health or weight loss product, launched their simple "Are You Beach Body Ready?" campaign nearly two weeks ago in London with billboards and posters featuring a fit model on a yellow background.  Cue the feminist division of the internet outrage mob, who pulled out their default cries of "fat shaming" and "objectification" and took to Twitter in an attempt to bully the company into submission.
Then a strange thing happened.  They didn't knuckle under.  As strange as it may seem in 2015, the company fought back.  They actually asked one of these SJW crybabies why her insecurities should be their problem.
And they kept fighting back.
@susanneallen Some would say they do 😏 pic.twitter.com/RlXNJCFmvD

— Protein World (@ProteinWorld) April 26, 2015
@HarrietEJohnson @FemLonCon Grow up Harriet pic.twitter.com/LRHqOptpk4

— Protein World (@ProteinWorld) April 23, 2015
The company says they've added thousands of new customers. I have no idea whether their product is great or is crap or whether it's even available here in the US, but someone had to take on the butterball brigade, and Protein World is apparently the richer for it.
Plus, they talk all kinds of British, saying things like "bugger," which is just plain fun.
"I couldn't have dreamt or hoped of having our advert reproduced more times across the news networks and social media as it has been done," says [Head of Global Marketing] Richard [Staveley]. "This protest has been absolutely phenomenal for us and entirely counter-productive for them.

"At the height of the protest, myself and the CEO took over the Twitter feed from our usual girl, and it was hilarious. They were saying, "ooh, somebody's getting fired tomorrow" – but it was us: the CEO and head of marketing. We had a good chuckle at that.

"We're not a faceless corporation, and 99 per cent of the time it's great. At times we will be sailing close to the line – and perhaps overstep the mark. But that's entirely part of the strategy.

"We were answering these tweets from the airport in New York and by that time it was 'bugger off, this is stupid'.

"That's the brand. By this time, people were watching our Twitter feed as a source of entertainment. Our customers adored it and now are even more behind the brand. We've added 5000 new customers. Sales are booming."