Implementation of Pennsylvania's common sense voter ID law was allowed to go forward by a judge, who saw no reason to grant an injunction preventing it from going into effect.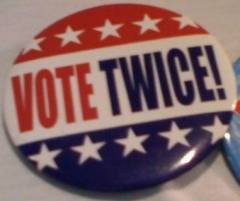 The law states that voters must show any one of many readily available forms of picture ID in order to vote. Voters who have no photo ID will be issued one for free. A poll released by the Washington Post yesterday shows that 74% of Americans support voter ID laws, including 60% of Democrats and 76% of Independents.
The Pro-fraud ACLU promises to appeal the ruling. Democrats are at a disadvantage when they can't cheat.
Votes by four of six Supreme Court justices would be needed to overturn the ruling by Simpson, who is a Republican. But the high court is currently split between three Republicans and three Democrats following the recent suspension of Justice Joan Orie Melvin, a Republican who is fighting criminal corruption charges.

The original rationale in Pennsylvania's Republican-controlled Legislature for the law — to prevent election fraud — played little role in the case before Simpson since the state's lawyers acknowledged that they are "not aware of any incidents of in person voter fraud." Instead, they insisted that lawmakers properly exercised their latitude to make election-related laws when they chose to require voters to show widely available forms of photo identification.