Only 6% of comments on Twitter about failed President Barack Obama's bus tour through the mid-west last week were positive according to an analysis by the social media analysts at Crimson Hexagon.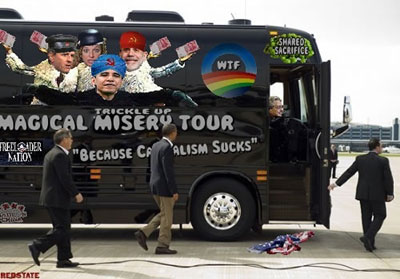 Crimson Hexagon found more than 47,500 comments about the Magical Misery Tour posted on Twitter.  Of those, about 38,000 expressed an opinion.  The final breakdown found 71% of the comments to be negative, described by The Hill as "ridicule," 22% to be neutral, and only 6% to be positive.
You just know those 6% were paid DNC astroturfers. It's what David Axelrod made his name doing.  If you think about it, it's fitting that the Walrus would be so involved in promoting the Magical Misery Tour.  Goo Goo G'joob.
The one positive comment highlighted by The Hill didn't even get the failed President's Twitter handle right.  Genius.
Among the negative comments, 21 percent were generally negative toward Obama, 17 percent called it a campaign stunt, 15 percent complained about taxpayers picking up the tab, 12 percent offered derisive names for the tour similar to GOP presidential candidate Mitt Romney's "Magical Misery Tour," and 6 percent that he was not in Washington working.