Troubled loudmouth Keith Olbermann is returning to ESPN with a planned hour-long sports talk show on ESPN2.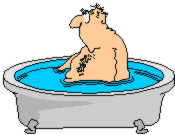 Olbermann's 2-year contract specifically prohibits him from discussing "politics" on the show, while allowing him to veer off sports to the topics of "pop culture" and "current events." In other words, Olbermann is free to discuss "politics" on his show all he wants.
Olbermann was last fired from ESPN in 1997. The "Countdown" to his next firing begins sometime later this year.
Some of Olbermann's years since leaving ESPN have been professionally stormy, but controversy has always been part of his public persona. While some of his other network tenures had rocky periods, and some ended badly, his sports knowledge and on-air charisma have never been questioned.
Really? I didn't realize that oversight. OK, let me go ahead and "question" his on-air charisma, then. He comes off as a cross between a carnival barker and a huckster trying to sell band instruments and uniforms to River City.