Kevin Jennings, the czar appointed by Barack Obama to head the Office of Safe and Drug Free Schools, has written extensively about his past drug abuse and failed to report when a minor student told him he was having sex with an older man according to FOX News.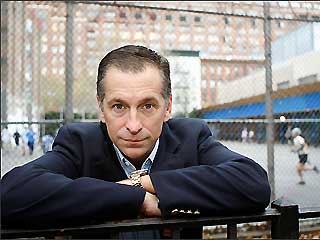 Let's make sure we have Safe and Drug Free Schools by appointing someone who has failed to promote either. Good job, Mr. President.
What could possibly make Jennings so perfect a candidate for the "Safe School" czar job that we should overlook past drug abuse and failure to report man-boy child rape?
In 1990, as a teacher in Massachusetts, he founded the Gay, Lesbian and Straight Education Network (GLSEN), which now has over 40 chapters at schools nationwide. He has also published six books on gay rights and education, including one that describes his own experiences as a closeted gay student.
Now I get it.  Agenda above all else, even in the schools.
Jennings' detractors note that he made four references to his personal drug abuse in his 2007 autobiography, "Mama's Boy, Preacher's Son: A Memoir." On page 103, discussing his high school years in Hawaii in the early 1980s, Jennings wrote:

"I got stoned more often and went out to the beach at Bellows, overlooking Honolulu Harbor and the lights of the city, to drink with my buddies on Friday and Saturday nights, spending hours watching the planes take off and land at the airport, which is actually quite fascinating when you are drunk and stoned."
Critics say a Drug Free Schools czar should not glorify teen-aged drug use, but supporters say, "let's figure out a way to call exposing Jennings own words 'racism' even though he's white."
But what of this GLSEN? Surely they've done some good work on teaching kids to be accepting of each other, right?
At a GLSEN conference in 2000, co-sponsored with the Massachusetts Department of Education, the group landed in hot water when it was revealed that it had included an educational seminar for kids that graphically described some unorthodox sex techniques.

A state official who spoke to teens at the conference said:

"Fisting (forcing one's entire hand into another person's rectum or vagina) often gets a bad rap….[It's] an experience of letting somebody into your body that you want to be that close and intimate with…[and] to put you into an exploratory mode."
Oh, come on.  Like you didn't have a fisting assembly or two when you were in public school.  It's not like he ignored the law and acted in an approving manner when a kid reported to him that he was having sex with an older man or anything.
Another controversy from Jennings' past concerns an account in his 1994 book, "One Teacher In 10," about how, as a teacher, he knew a high school sophomore named Brewster who was "involved" with an "older man":

"Out spilled a story about his involvement with an older man he had met in Boston. I listened, sympathized, and offered advice. He left my office with a smile on his face that I would see every time I saw him on the campus for the next two years, until he graduated."

The account led Diane Lenning, head of the National Education Association's Republican Educators Caucus, to criticize Jennings in 2004 for not alerting school and state authorities about the boy's situation, calling Jennings' failure to do so an "unethical practice."

Jennings threatened to sue Lenning for libel, saying she had no evidence that he knew the student in question was sexually active, or that he failed to report the situation.

But a professor at Grove City College in Pennsylvania, Warren Throckmorton, has produced an audio recording of a speech Jennings gave in 2000 at a GLSEN rally in Iowa, in which Jennings made it clear that he believed the student was sexually active:

"I said, 'What were you doing in Boston on a school night, Brewster?' He got very quiet, and he finally looked at me and said, 'Well I met someone in the bus station bathroom and I went home with him.' High school sophomore, 15 years old' I looked at Brewster and said, 'You know, I hope you knew to use a condom.'" [Audio is available on the professor's Web site.]

The Washington Times reported in 2004 that "state authorities said Mr. Jennings filed no report in 1988." A spokeswoman for the Massachusetts Department for Children and Families, the department to which Jennings — as a Massachusetts teacher — would have been legally obliged to report the situation, did not return calls from FOXNews.com.