Olympic medalists must add the value of their actual medal as well as their prize money to their taxable income and fork over up to 35% of what they won representing America at the 2012 London Olympic Games according to Americans for Tax Reform.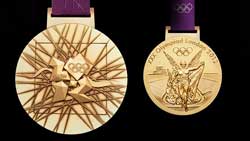 What's the big deal? According to Barack Obama, they didn't win those medals.  It's not that they had more talent or were more athletic. There are plenty of athletic people out there. Someone else made that happen.
The organization provides a handy chart which shows  current value of the metal contained in the Gold, Silver and Bronze Olympic medals and associated cash prizes for each achievement level.
Gold medalists, for example, receive a $25,000 cash prize in addition to $675 worth of gold in the medal.  At the 35% tax rate, that equates to about $8,986 in additional taxes for winning just one gold. So, with the American Fab 5 Gymnast team's group win in London on Tuesday, the Tax Cheat Timmy Geithner's US Treasury actually "won" up to $44,930.
Silver medalists are taxed up to $5,385, and Bronze medalists up to $3,502.
It gets even worse. Not only do our Olympic athletes have to pay taxes on their medals and prizes – chances are their competitors on the field will face no such taxation when they get home. Because the U.S. is virtually the only developed nation that taxes "worldwide" income earned overseas by its taxpayers, our Olympic athletes face a competitive disadvantage that has nothing to do with sports.