New Zealand Economic Development Minister Steven Joyce was hit in the face by a pink dildo, thrown by a protester who was angry at Joyce for supporting the Trans-Pacific Partnership deal championed by Barack Obama and Marco Rubio.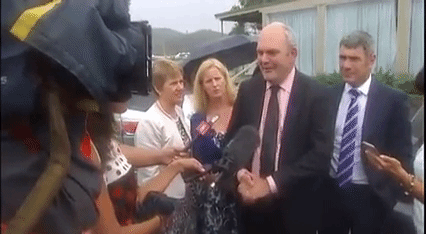 No one would throw a pink dildo at Marco Rubio over his TPP support because only God knows where it would end up.
Online video footage shows the protester shouting, "that's for raping our sovereignty" as she is escorted away.

Joyce appears slightly shocked by the attack before he realizes exactly what hit him and breaks into a grin.

He later brushed off the assault. "Fair to say I don't think those sorts of things happen every day," Joyce told TVNZ. "We actually thought it was a little bit humorous at the end of it all. New experiences in politics every day; it's the privilege of serving."
Here's what Rubio said last May about Obama's Trans-Pacific Partnership.
Millions of the best jobs in this century will depend on international trade. It is more important than ever that Congress give the President Trade Promotion Authority so we can finalize the Trans-Pacific Partnership and the Transatlantic Trade and Investment Partnership.
Donald Trump knew the truth about the TPP back in April.
The Trans-Pacific Partnership is an attack on America's business. It does not stop Japan's currency manipulation. This is a bad deal.

— Donald J. Trump (@realDonaldTrump) April 22, 2015