The New York Times reports that Mitt Romney's close friends believe he has picked his running mate and will announce his pick this week.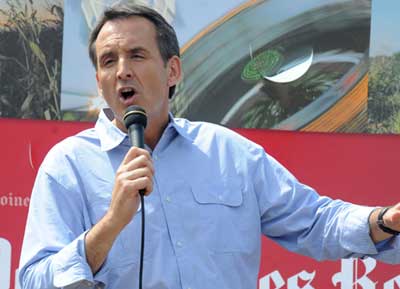 The story goes on to focus almost exclusively on Tim Pawlenty.  Not sure if it's a decoy story or what, but I think everyone can agree that the New York Times probably has candidate Romney's best interests at heart and just wants to get to the truth.  Right? No?
I don't think Pawlenty is a bad guy, and it's true that his everyman background will help mitigate the evil, evil wealth Romney accrued over his lifetime of hard work, but is this really the energized attack dog candidate we've been looking for?
Actually, he could be. Back in May 2011, he shed his nice guy image for a little bit to shore up his conservative credentials. He admitted that his former support of cap-and-trade schemes was "a mistake" and went on the Rush Limbaugh show to assure conservatives about his positions.  He also went to Iowa to tell them to stop relying on subsidies, to Florida to tell old people it's time to reform Social Security in a meaningful way, and then to Wall Street to tell them to stop relying on bailouts.
Even if he's not the most exciting guy, he at least made an attempt to actively court conservatives, something Romney never really did.  Also, this doesn't hurt.
A year ago, as the Republican presidential field was emerging, aides to Mr. Obama kept close tabs on Mr. Pawlenty and his plain-spoken message as a so-called Sam's Club Republican. They spoke privately about how his blue-collar upbringing in South Saint Paul, Minn., in the shadows of stockyards, could be compelling to voters with the economy on their minds.

Now, as the president and his re-election campaign are relentlessly hammering away at Mr. Romney's wealth and business background, some admirers of Mr. Pawlenty believe that he could help ease the criticism that the Republican ticket does not appeal to working-class voters.

"An appealing counterbalance to Romney being a son of a wealthy man and going to elite schools is Pawlenty being the son of a truck driver who went to the University of Minnesota," said Ray Washburne, a Dallas businessman who began helping Mr. Romney's campaign after Mr. Pawlenty left the race. "He's not elite in any sense of the word."
There are probably better choices electorally, but I think it's time we adjust our expectation that we're going to get a Vice Presidential pick with a "Wow factor" out of Romney.  Romney isn't a "Wow factor" kind of guy.  No one's fainting.
But I like this.
Grover G. Norquist, who leads the group Americans for Tax Reform, said the full scope of Mr. Pawlenty's record was strong, despite the tax increase. He pointed to his leadership on a 44-day transit strike in 2004, where he won a fight over compensation and retirement benefits.

"He was a little Scott Walker before Scott Walker," Mr. Norquist said, referring to the Wisconsin governor hailed among conservatives for surviving a recall election last month after cutting collective bargaining rights for most public workers.