The New York Times is reporting that Megyn Kelly is leaving FOX News for a job at NBC News, where she'll fit in much better.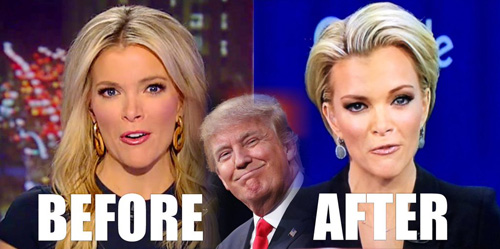 Kelly, the Trump hating leftist shrew who chopped all of her hair off after melting down on Trump during an early GOP primary debate in 2015, first appeared on FOX more than a decade ago.  NBC has wasted their money on hiring her to host a daytime news and discussion show, a Sunday night news program, and appear during special political events.
No word on how much money Kelly will receive but, given her worth and talent, it's undoubtedly too much.
Ms. Kelly's departure would upend Fox News's vaunted prime-time lineup and inject a new dose of tumult just a few months after the departure of the network's powerful founding chairman, Roger Ailes, who was ousted after several women made allegations that he sexually harassed them.
Ratings will go up no matter who they put in at 9PM.
The new deal, which NBC is expected to announce imminently, brings to a close the most anticipated television news contract negotiations since Katie Couric signed with CBS News in 2006, for $15 million a year.
That went about as well for them as signing Megyn will go for NBC.  As for the rest of us, Megyn has been vanquished to a channel none of us will ever watch producing programming that none of us will ever watch. Checking…nope…not sick of winning yet.