Orange 3rd grade teacher Marilyn Zuniga has been fired after forcing her third-grade class to write get well letters to cop killer Mumia Abu-Jamal.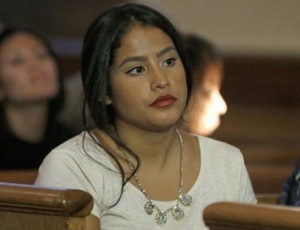 How could you possibly think making third graders write a get well letter to an ailing cop killer is a good idea?
Zealot Zuniga was suspended back in April, and found plenty of support among the society-hating left for her actions going into the vote about her employment.  She was entirely unapologetic in addressing the controversy ahead of the meeting that was due to decide the fate of her career.
"I stand in front of you today because there's a community behind me, and because there's people here of the community, of the Orange community and the surrounding communities, that support me," Zuniga said. "There's people around the nation who support me, who believe I need to be reinstated and I believe that I need to be reinstated.

"My students need me in the classroom. My students have requested that I come back to the classroom," Zuniga added. "They miss me and they've been asking for me, and that's what's most important. No one is thinking about the students."
It wasn't enough. But, strangely, the board didn't really indicate to anyone what they were voting on or what the outcome of the vote actually was.
[I]n under three minutes, the board unanimously approved a personnel agenda and abruptly adjourned the meeting without discussing or explaining what was just voted on.

Outside the school building soon afterward, school board Vice President Jeffrey Wingfield declined to explain whether the board had voted to terminate Zuniga's employment.

"Let her tell you," said Wingfield, referring to Zuniga. "I want her to tell you."

After being contacted by a reporter, Orange Superintendent Ronald Lee confirmed in an email on Wednesday afternoon that the board had voted to terminate Zuniga's employment as part of the personnel agenda.
You've got to be a flat-out ideologue to force little kids to write get-well letters to a cop killer, especially this cop killer, whose conviction has been repeatedly upheld at every turn since he killed Danny Faulkner back in 1981. I don't know even know exactly why the Free Mumia crowd is still at it, since he was taken off death row some time ago, but no amount of reason or evidence will knock them off the course of supporting this vicious cop killer.
I mean, the guy did it.  There's no doubt at this point.