You have to be vigilant, because something that is perfectly normal and acceptable behavior one day sometimes becomes incredibly, inexcusably racist behavior the next day.  If you don't pay close attention, you're going to get left behind and transform into a racist.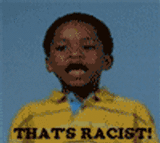 Oh, sorry. I meant RAAAAACIST!!!  Don't dare want to minimize the severity of your future infraction.
Today's example: Chanting "USA" after winning a basketball game.  This is Obama's America.  There will be no chanting of USA or displays of patriotic pride that are not directed toward Obama himself, thank you very much.  You've been warned.
Under the headline "Racial Incident Mars High School Game"…
SAN ANTONIO – A local school district is apologizing after an apparent incident of racism at a boys high school basketball game this past weekend.

When the final whistle blew Saturday, Alamo Heights celebrated a convincing victory over San Antonio Edison.

Alamo Heights Head Coach Andrew Brewer said he was proud of his team.

"Tremendously proud," Brewer said. "Tremendously. It's the best group of kids."

But it was just after the trophy presentation when the coach was not proud of the chant coming from Alamo Heights fans.

"USA, USA, USA," they chanted.

San Antonio Independent School District officials took the chant as a racial insult to a school with all minority players from a school with mostly white ones.
When I last checked, both Alamo Heights and San Antonio Edison were actually located in the "USA, USA, USA." So, is it because the minority students don't consider themselves part of the USA that this chant is racist, or is there some other reason I may be missing?
Both districts are now just trying to move past this disturbing incident.
Entirely disturbing.
Taking bets on how long it is before Eric Holder's porn mustache makes an appearance in San Antonio.