The buzz created by still photos of starlet Adrianne Palicki in a decimation of the iconic costume wasn't enough to save David E. Kelley's Wonder Woman reboot. NBC has passed on the proposed fall drama after test audiences rejected Kelley's vision for the classic comic book heroine.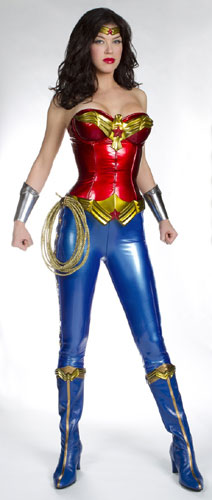 News flash: David E. Kelley sucks. David E. Kelley's hack "zany" characters suck.  All David E. Kelley has ever been able to deliver are shows that sound good as a pitch, and a season – maybe two – before his shows implode into tight little black holes of their own conceptual conceits.
I'm glad this raging whiny liberal tool won't get his hacky hands on Wonder Woman.
Despite some negative early speculation, the pilot was not a disaster as some suggested. People who have seen it describe it as "ambitious" and "well crafted".
His pilots are never disasters.  It's the implausible dreck that happens afterwards that makes audiences wretch and then flee in droves.
But its screenings and testing were very mixed. "The audience couldn't buy in the modernization," one insider said. There were early signs of resistance against updating the classic franchise and the character when fans slammed the superhero's new, contemporary costume.
In the end, we're left with some pictures of a hot girl in a tight low-cut superhero costume.  That's pretty much all I needed from it anyway.