NBC interviewed boxing legend Evander Holyfield at the 2012 London Olympics during the Today show on Monday, but had no idea who he was. He was interviewed about the Opening Ceremony as just another tourist walking around London.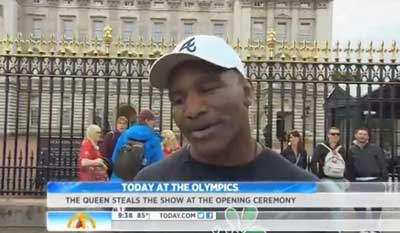 Holyfield won a bronze medal as a light heavyweight in Boxing during the 1984 Los Angeles Olympics.
As part of its Olympic coverage, the "Today Show" stopped random people in front of Buckingham Palace on Monday to ask about Queen Elizabeth's performance with Daniel Craig during the opening ceremony. Among them was a man in a white baseball cap and blue T-shirt who called the Queen "wonderful."

The quick comment was strung together with a series of others from passers-by, but it turned out the gracious American tourist was none other than the boxing legend.

It appeared that the NBC crew and reporters were unaware of who they had just interviewed.
Holyfield later took to Twitter to let his fans know he had no hard feelings toward NBC for being clueless.
Hey, hey, There's no way the @todayshow could've known who I was yesterday. I was in disguise. It was all fun!!

— Evander Holyfield (@holyfield) July 30, 2012
Look, the @todayshow did a good job. It was hard to recognize me with the baseball cap. This could happen to any reporter. LOL!!

— Evander Holyfield (@holyfield) July 30, 2012