Last week, the government reported that 367,000 Americans applied for Unemployment checks.  This week, the government reported that 370,000 Americans applied for Unemployment checks.  So how is this information reported by the Associated Press and the rest of the Obama loving media?
WASHINGTON — The number of people seeking unemployment benefits was unchanged last week, suggesting steady gains in the job market.
Then, Obama supporters in the press corps (in other words, the entire press corps) dutifully spread the tall tale.
(AP) – Applications for US unemployment aid stay at 370,000, level consistent with steady job growth.

— Mark Knoller (@markknoller) May 17, 2012

Meanwhile, those of us out here whose memories go back more than a week ago think: "Unchanged? The deuce, you say?  How can this be?"
Although you'd never know it from reading the rah-rah Obama cheerleading article that follows – last week's figure and the adjustment to it is not mentioned at all – last week's number was adjusted upwards by 3,000 to 370,000.  And, when this week's 370,000 is adjusted upward next week, making the entire premise of the article – that the number of claims was unchanged from last week to this week – incorrect, they won't mention that either, and they'll hope that you don't notice.
They also fail to mention that economists were predicting initial claims at 365,000 this week, meaning the actual 370,000 claims missed expectations by 5,000.
The sad fact is that, although Obama's Bureau of Labor Statistics has dropped millions of working-age Americans from the labor force, meaning their employment situation doesn't count in the figures anymore, the number of weekly unemployment claims has actually settled in 20% higher every week than it was before the financial crisis.  Claims are consistently worse, and doubly so considering there are supposedly millions fewer people out there.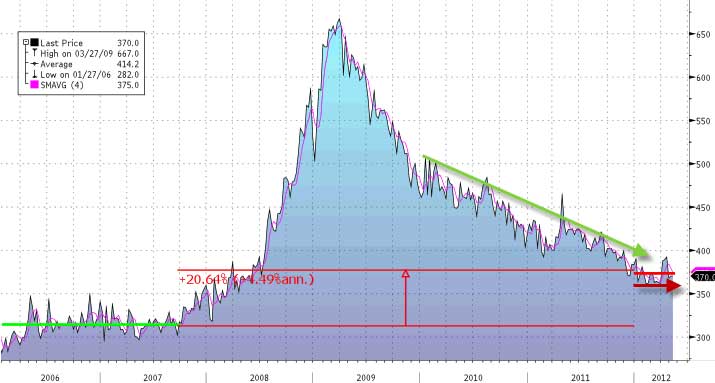 This is not suggestive of "steady gains."  You've got millions less people out there being counted in the work force compared to 2007, yet 20% more applying for benefits week to week.  An article like the one the AP put out this morning can't be explained away by blaming an incompetent reporter.  This is intentional media malpractice, plain and simple.