Americans rate George W. Bush more favorably than failed president Barack Obama according to a new CNN poll that shows Bush's favorability in positive territory for the first time since early 2005.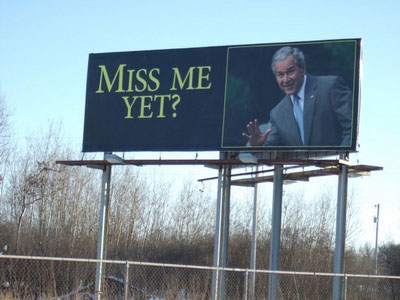 It's amazing what can happen when a constant media drumbeat stops and people actually take some time to think for themselves.  Obama being a completely incompetent disaster isn't hurting things, either.
Bush is seen in a favorable light by 52 percent of those surveyed, compared with 43 percent who still view the 43rd president unfavorably. Americans are split on Obama, with 49 percent responding favorably and unfavorably.

[…]

Among living presidents, George H.W. Bush and Bill Clinton are viewed the most favorably, with 64 percent responding favorably to both. Just 30 percent see the elder Bush negatively, and 33 percent see Clinton in an unfavorable light.