The UK's Daily Mail reports that White House sources say First Lady Michelle Obama alone has spent $10 million in taxpayer money in just the past year.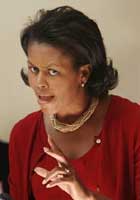 I've got your calls for "shared sacrifice" right here!  They don't call her Moochelle for nothing.
Branding her 'disgusting' and 'a vacation junkie', they say the 47-year-old mother-of-two has been indulging in five-star hotels, where she splashes out on expensive massages and alcohol.

[…]

The First Lady is believed to have taken 42 days of holiday in the past year, including a $375,000 break in Spain and a four-day ski trip to Vail, Colorado, where she spent $2,000 a night on a suite at the Sebastian hotel.

[…]

The source continued: 'Michelle also enjoys drinking expensive booze during her trips. She favours martinis with top-shelf vodka and has a taste for rich sparking wines.

'The vacations are totally Michelle's idea. She's like a junkie. She can't schedule enough getaways, and she lives from one to the next – all the while sticking it to hardworking Americans.'
Barack's not the only one in the family with a spending problem.
The magazine also reported that Mrs Obama, whose fashion choices are widely followed, had been going on 'wild shopping sprees', much to the distress of her husband, who, its sources reveal, is 'absolutely furious' at his wife's 'out-of-control spending'.