Because she just wants the whole controversy that she started by posting a photo to Twitter that featured a lot of top boob to go away, Meghan McCain kept to herself today, didn't mention the matter at all, and waited for the 12-hour story to just blow over.
Nah, that's not true.  She actually reignited the whole topic by writing a column for The Daily Beast called "Don't Call Me A Slut."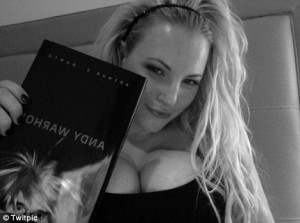 She's right.  It's wrong to caller her a slut. How about "Balloon Girl?"
And of course, the rack-focused image is only a problem for people because of her weight.
To be honest, I don't feel that I have anything to feel ashamed of. I've always embraced my curves and will continue to do so. I'd rather be the size I am than a skinny model fired for being too fat. And once again, a day after writing about my weight, it's the media that have a problem with my body.

For years I have struggled to accept the fact that the way I look in a tank top comes off more "sexual" than a flat-chested woman. And once again I was reassured by the media that someone with my cup size should always be covered up. Or what, I'll be seen as a slut? It's pathetic we can come so far in so many ways, but when Rep. Aaron Schock or Rep. Jeff Flake post pictures of themselves without their suits on—and their shirts, for that matter—they are proclaimed "hotties." But put me in a tank top and I am suddenly an embarrassment to the Republican Party and women everywhere. The double standard is infuriating.