Left-wing media outlets like Politico and MSNBC were in a tizzy yesterday after Ann Romney appeared in an interview on CBS' often ignored morning show wearing a shirt reported to cost $990.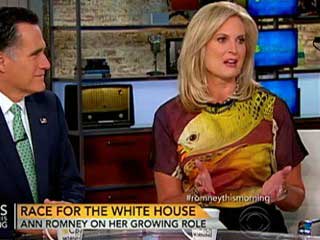 Of course, the sentiment was picked up by all the blogs out in the tardisphere…
The shirt's a Reed Krakoff design from this season's ready-to-wear collection. According to a spokesperson for the designer, Ann didn't get it directly from them, so she must have bought it at Saks or Nieman Marcus or one of those other places normal American stay at home moms talk about over their kitchen tables while they worry about paying the bills.
Wearing a nice shirt obviously means that the Romneys are out of touch with the average American and can't possibly have empathy for someone out there who is struggling in the economy Barack built, or so the story goes.
What always goes unmentioned and without criticism, however, is Michelle Obama's new-found love for high-end fashion. Like the time, just a couple of months ago, when the taxpayer funded jet-setter showed to an event in a $2,700 sweater.  In fact, Michelle Obama seems to have a soft spot for sweaters in the $2500-$3500 price range. And this makes her a "fashion icon."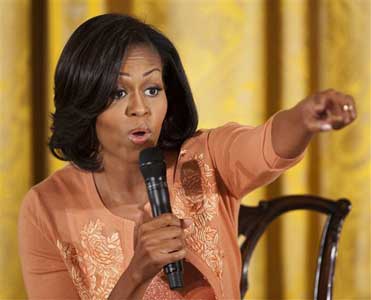 In March, the first lady visited her British counterpart Samantha Cameron wearing a L'Wren Scott sweater in a trendy bright yellow hue. The embellished cardigan costs $2,720.

Obama, widely regarded as a fashion icon, likes the brand so much that she wore a peach cardigan from the same line last week during the Take Your Child to Work Day festivities.

The next day, she wore another sweater from L'Wren Scott, this one white with red trim from the Spring 2011 ready to wear collection, for a visit to Fort Stewart with the president.

She has been a fan of the brand's cardigans since at least 2010, when she wore this black and white number to a childhood obesity event.

The first lady's favorite embellished cardigans from L'Wren Scott range from $2,095 to $3,320.
The difference is that, before her taxpayer subsidized makeover, Michelle Obama dressed and looked like this: