Elizabeth Cheney, daughter of former Vice President Dick Cheney, is kicking ass and taking names in an assault against the weak foreign policy of failed President Barack Obama and his defenders in the liberal media.
And conservatives, desperate for an articulate leader who can forcefully defend and portray our values and ideals on the national stage, are starting to pay attention.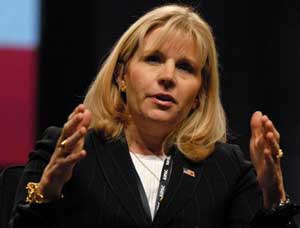 Liz Cheney, who followed the former veep's hard-hitting speech criticizing President Obama's policies with a CNN appearance, is becoming so popular in conservative circles that some want her to run for office. "She's awesome. Everyone wants her to run," said a close friend.

[…]

A forceful defender of the administration and her dad, Liz Cheney has been appearing on TV with greater regularity. She brings to the screen a combination of her dad's steely focus and her mom's softer touch. "It's a two-fer. She comes off a bit better than he does sometimes," a conservative consultant said.
On Friday, radio titan Rush Limbaugh devoted nearly an hour of his three hour radio show to playing and discussing audio from Cheney's recent television appearances, praising her for the way she dissected the hidden agenda behind the biased questions offered by the liberal media and articulated a conservative response.
[Other friends] say that she is unlikely to run for office now because she is raising five young children, helping to write her father's book, and working on other major conservative projects. "She's a chip off the block!" said a longtime friend.
Liz Cheney is not just the daughter of the former Vice President.  She has actual credentials.  She's a lawyer and also spent years working in the State Department.
Cheney worked on the 2008 Presidential campaigns of Fred Thompson and Mitt Romney after Thompson left the race.