Liberty University President Jerry Falwell Jr has endorsed Donald Trump in the Republican Presidential Primary.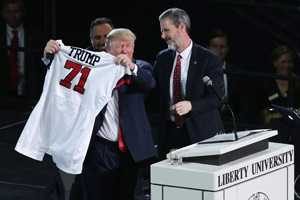 Rival Ted Cruz announced his 2016 presidential bid at Liberty University. Ouch, Ted.  That's going to leave a mark.
Trump delivered the convocation address at the University on January 18 and received a jersey in front of a crowd of about 11,000 students.
Great honor- Rev. Jerry Falwell Jr. of Liberty University, one of the most respected religious leaders in our nation, has just endorsed me!

— Donald J. Trump (@realDonaldTrump) January 26, 2016
Support from Falwell, the son of a famed evangelical televangelist, is a stamp of approval for Trump from one of the country's best-known religious conservatives and comes just days before the Iowa caucuses.