NBC fired liberal Today show anchor Matt Lauer after a complaint was filed against him for alleged "inappropriate sexual behavior" at work.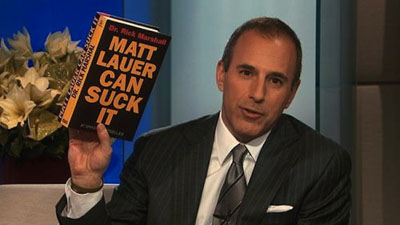 The network says they have reason to believe that incident in the complaint may not be isolated. Lauer's former co-host, fellow liberal Savannah Guthrie, announced the move at the beginning of the Today show this morning.
They thought they struck gold when they took out Bill O'Reilly. Lauer was right there, leading the charge. Reap what you sow.
"This is a sad morning at 'Today' and NBC News," she said. "As I'm sure you can understand, we are devastated. I'm heartbroken for Matt. He is my dear, dear colleague."

Guthrie also said she was heartbroken for the woman who accused Lauer of misconduct, noting "it's long overdue" that women feel comfortable coming forward against abusive men.
Just over two months ago, Lauer was sanctimoniously haranguing Bill O'Reilly over allegations of inappropriate conduct.
Lauer said the women "came forward and filed complaints against the biggest star at the network they worked at" and asked O'Reilly to "think of how intimidating that must've been, how nerve-wracking that must've been."