The NBC division of failed President Barack Obama's re-election campaign sunk to a new low Monday night, when The Roots, the house band for Jimmy Fallon's little-watched late night show, played a song called "Lyin' Ass Bitch" to "welcome" guest Michele Bachmann on stage.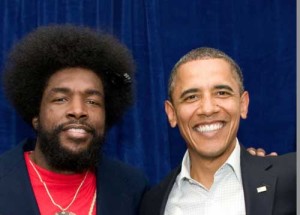 Not surprising considering the network the show is aired on, although I thought Fallon himself had more class than this.
The Roots' leader – called Questo or Quest Love or something, has a picture of himself and disasterous ignoramus Barack Obama as his Twitter avatar.  He proudly tweeted his sexist intentions just before Bachmann's appearance.
aight late night walkon song devotees: you love it when we snark: this next one takes the cake. ask around cause i aint tweeting title.