Incompetent Maryland state's attorney Marilyn Mosby appeared on stage with Prince over the weekend as the singer performed a tribute to drug dealer Freddie Gray entitled "Baltimore."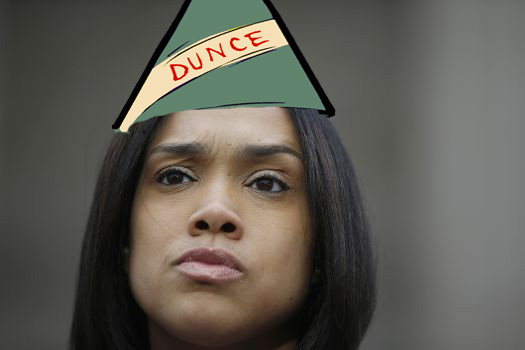 People have noticed that Mosby seems to be more interested in self-promotion and social justice revenge than in criminal justice, which is her actual job.
Tickets for the concert were given to Mosby by her husband Nick, a Baltimore city councilman who represents the district where mobs rioted after Gray died in police custody on April 19.  Nick Mosby's position is another conflict that casts doubt on Marilyn Mosby's ability to fairly preside over the thin case against the 6 officers charged in Gray's death.
"Nobody got in nobody's way, so I guess you could say it was a good day, at least a little better than the day in Baltimore. Does anybody hear us pray, for Michael Brown or Freddie Gray? Peace is more than the absence of a war," the song goes.
"If there ain't no justice than there ain't no peace," it continues.
Last week, Mosby misidentified two of the six people she charged with the crimes that she claims are associated with the death of Freddie Gray.
I wonder what Baltimore will look like when Mosby's well-documented ineptitude results in a spate of acquittals.