Hamilton Township Mayor Kelly Yaede spoke in favor of the Mercer County GOP endorsing Donald Trump at a recent party convention where the party's presumptive nominee got the majority of votes.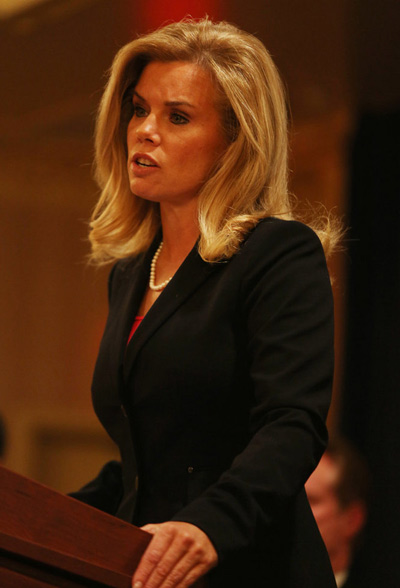 Trump received 32 votes at the convention, which was held March 11, while Ohio Governor John Kasich received 31. Lyin' Ted Cruz was a distant third at 10 votes.  Amnesty advocate Little Marco Rubio, who was still in the race at the time, received none.
It appears that Yaede was Trump's main advocate at the meeting.
"He's a leader who will tackle the issues," Yaede said Thursday of Trump, a real estate business tycoon who currently leads the pack as the Republican presidential frontrunner. "Out of all of the candidates, I believe he can effectuate the change needed in a positive way. His life experience in the business world demonstrates his knowledge of the American economy and foreign trade, which shall yield dividends for U.S. citizens in a global economy."

[…]

"He's not afraid to tackle difficult decisions and voice the right course of action even though it's not the most popular decision," Yaede said of Trump in a statement. "He disavowed and repudiated individuals or hate groups against any of our fellow citizens."
Hamilton Councilman Dave Kenny, who was not at the meeting, stopped short of endorsing Trump in a statement Saturday, but seems to admire his campaign.
"I don't have any problem with Trump. I think he has started a movement in the country that is very remarkable. I think he has drawn a lot of Democrats to support him."
Of course, Hamilton Democrats are going to Democrat. Demagoguery is what they're good at.
Hamilton Democrat JoAnne Bruno on Saturday chastised the Mercer County Republicans who had voted to endorse Trump.

"They are supporting someone who has been endorsed by the Ku Klux Klan, and people are all right with that?" Bruno said. "That is completely out of step. A president who is endorsed by the Ku Klux Klan? Were you people out of your mind?" Bruno added. "I can't wrap my mind about what people are thinking. This is the presidency, not a reality show."

Hamilton Democrat Dan Keelan said, "I am not surprised Kelly Yaede and the Republican leadership in Hamilton endorsed Trump, because they themselves are divisive."
Bruno must not be up on the current news. There's a Presidential candidate who has been endorsed by the Klan, but it's not Donald Trump.
"We want Hillary Clinton to win," [Will Quigg, a grand dragon of the Ku Klux Klan's California chapter] said. "She is telling everybody one thing, but she has a hidden agenda. She's telling everybody what they want to hear so she can get elected, because she's Bill Clinton's wife, she's close to the Bushes. Once she's in the presidency, she's going to come out and her true colors are going to show. Border policies are going to be put in place. Our second amendment rights that she's saying she's against now, she's not against. She's just our choice for the presidency."