The douche Phillies fan who plowed into an old lady and wrestled a homerun ball from her hands has been identified as Jim Bergen.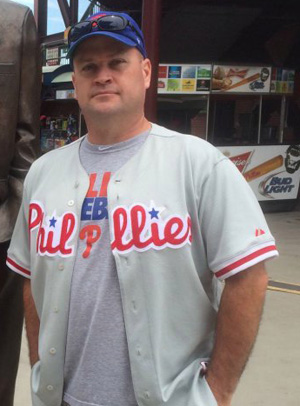 Obviously, a place completely wired for live video broadcast is not the wisest location to let your inner jackass out to play.  I guess Bergen just had the uncontrollable urge to wrap his hands around some balls.
The incident occurred Sunday, when Joyce Murphy Kiner was able to snag Maikel Franco's 8th inning home run from the flower bed, only to have Bergen wrest it from her hands.
Kiner went on 97.5 the Fanatic and explained what happened at Sunday's game.

She said: 'I knew the ball was coming my way. My husband handed me his glove when he left his seat. I put my hand out and it hit my glove or was in my glove but the glove is too big for me.

'It fell right right in the flowerbed right in front of me. I couldn't really get up and over the fence without falling in.

'I had it in my hand and I just tried to get a good grip on it and the guy just ran over, pushed me out of the way, and then took it.

'He body-checked me really. I looked at him and said 'I can't believe that you dog' but he just walked away.'

'You do not do that to a lady. You hand that ball to a lady,'
Bergen had the ball certified and then bragged about the ball on Facebook, and the Daily Mail was able to snag some pictures of him at the ballpark looking like the complete tough-guy he is before Bergen shut his Facebook page down, hopefully in shame.
Kiner was given front row tickets to an upcoming game and has become a bit of a local hero.