The National Republican Congressional Committee has finally unleashed on far-left radical Kathy Boockvar for her ties to convicted cop killer Mumia Abu-Jamal.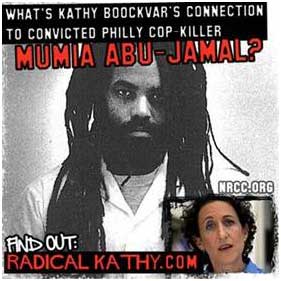 A scolding Philly.com provides a partial script of a phone call going out to between 200,000 and 300,000 voters on Friday, but the NRCC's own web site provides the full script.
Hello, I'm calling from the National Republican Congressional Committee at 320 First Street Southeast in Washington, DC 20003, 202-479-7000, with a recorded message about congressional candidate and legal activist Kathy Boockvar and convicted Philadelphia cop killer Mumia Abu-Jamal.

The husband-and-wife law firm of Boockvar and Yeager has represented one of the leading activists for Mumia Abu-Jamal – and Boockvar's husband was a lawyer for a witness to the murder who accused the cops of pressuring her.

Boockvar's husband himself accused the Philadelphia police of intimidating witnesses to the murder.

Boockvar's colleague at a legal activist group accused the Philadelphia police union of having the state's Supreme Court in its pocket when it comes to Abu-Jamal.

Last year, a group tied to Boockvar's husband, held an event at the Constitution Center honoring Mumia Abu-Jamal. The cop killer called into the event from prison.

Call Kathy Boockvar at (215) 839-9383 and tell her that's too radical for Bucks County.

For more facts about legal activist Kathy Boockvar, visit RadicalKathy.com

This call was paid for by the National Republican Congressional Committee and was not authorized by any candidate or candidate's committee. (202) 479-7000.
Ouch. They didn't even mention the Mumia work going on at the Advancement Project while Kookvar was active there.
Philly.com also tries to perpetuate the myth that PA-8 is a "hotly contested Congressional race" (polls, please) and that "the eighth district regularly flips between Republican and Democratic control" (about as "regular" as me after a can of peanuts).
Congressman Fitzpatrick had no knowledge of the NRCC's attack when asked about it yesterday.