FOX News lost about half the audience it had for a GOP debate last August when it aired a rematch last night that didn't feature the party's front runner, Donald Trump.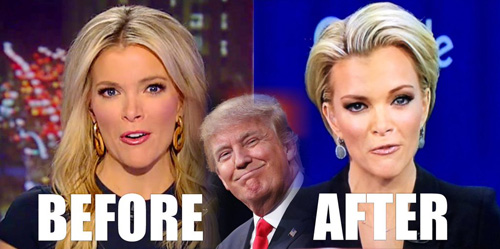 With Trump, the FOX News debate back on August 6, 2015 had about 25 million viewers.  Without Trump, last night's FOX rematch drew about 12.5 million.  This puts it behind all but one of the 6 previous GOP debates. Only the January 14, 2016 GOP debate on sister station FOX Business drew fewer viewers with just 11 million.
FOX News is available in 94.7 million households, while FOX Business is available in only 74.2 million.
Additionally, of the debate's 13 million viewers, an estimated 7 million tuned in just to laugh at and mock moderator Megyn Kelly's hair disaster with their friends.
A FOX News debate, with moderators most of the GOP base knows on a channel that most of the GOP base has been comfortable with would be expected to draw many more viewers than one on networks the base is actively hostile toward, like CNN and CNBC.  However, this was not the case last night without the GOP front runner on stage.  CNN's September and December 2015 debates had 23 million and 18 million viewers respectively. CNBC's October 2015 debate managed about 14 million.
A rival event hosted by Trump to benefit wounded US combat veterans, which was broadcast only in part on CNN and MSNBC, managed about 3 million viewers.  Trump spoke only briefly at the beginning and end of the event. Trump says the event raised $6 million.