CNN reports that Ford has ditched plans to build a $1.6 billion plant in Mexico in favor of investing $700 million in expanding their operations in Michigan as a "vote of confidence" in President-elect Trump.
The CEO of Ford says that it's a "vote of confidence" in Trump.
Ford (F) CEO Mark Fields said the investment is a "vote of confidence" in the pro-business environment president-elect Donald Trump is creating. However, he stressed Ford did not do any sort of special deal with Trump.
President-elect Trump repeatedly slammed Ford's plans in Mexico during the campaign.  Trump hinted at this possibility in a tweet from October after Ford started feeling the pressure.
Word is that Ford Motor, because of my constant badgering at packed events, is going to cancel their deal to go to Mexico and stay in U.S.

— Donald J. Trump (@realDonaldTrump) October 25, 2015
Ford previously agreed to keep their Lincoln plant in Kentucky at Trump's request.
Just got a call from my friend Bill Ford, Chairman of Ford, who advised me that he will be keeping the Lincoln plant in Kentucky – no Mexico

— Donald J. Trump (@realDonaldTrump) November 18, 2016
Still, the shills at CNBC refuse to give the President-elect any credit where it's clearly due, citing unnamed "high level sources."
A high level source within Ford stressed Trump had nothing to do with their decision to expand production and hire more employees, NBC News reports.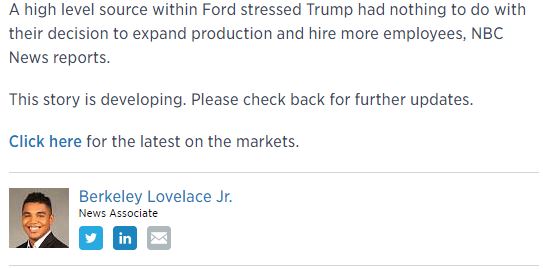 Clearly, a source can't be "higher level" than the CEO, who says the move is a "vote of confidence" in Trump.  It's on video and stuff.