Florida's Lake County Democratic Party has taken down a bastardized (literally) "Ears and Bars" style American flag, with the face of failed President Barack Obama where the stars should be, after drawing complaints from local veteran's groups.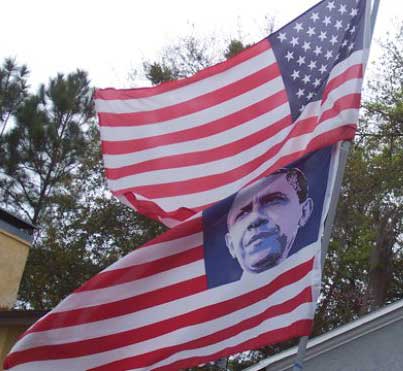 I'm not a huge advocate of flag worship, but people have fought and died in the name of the American flag and what it represents, and it does deserve more respect than plastering the face of the country's most disastrous President on it.
"It's absolutely disrespectful," Jim Bradford, a 71-year-old veteran who participated in the Bay of Pigs Invasion told FoxNews.com. "It's totally ridiculous. To put somebody's picture there, to me, it's a disgrace to do that."

Bradford, an organizer with the Veterans Memorial at Fountain Park in Leesburg, Fla., snapped photos of the flag and distributed them to fellow veterans and friends. By late afternoon, he and several other veterans delivered a copy of the federal flag code to Nancy Hurlbert, chairwoman of the Lake County Democratic Party.

"We read that to her, but she would not accept that," Bradford said. "The discussion finally got a little bit heated."

The flag, which had been flying for several months without complaint and is available online for $12.95, was later removed by Hurlbert.

Bradford said Hurlbert apologized for the incident, but did not offer any promises that it wouldn't fly again.

"What really upsets me is that the flag had apparently been flying for months and no one had done anything about it," Bradford said. "I've got no hard feelings toward [Hurlbert], but people will be driving by there to make sure it doesn't go up again."
Of course, a veteran who doesn't want to see his flag desecrated must automatically be of  a certain "element" (i.e. RAAAAACIST) according to the Democrat Obama worshiper.
Hurlbert said Tuesday's incident was the first time anyone had complained about the flag, which she received as a gift two months ago.

"It leads me to believe that it's not about the flag," she told FoxNews.com. "Certain elements cannot accept Barack Obama as president."