Republican Congressman Mike Fitzpatrick has clobbered Occupy Wall Street challenger and former supermodel Kathy Boockvar in second quarter fund raising.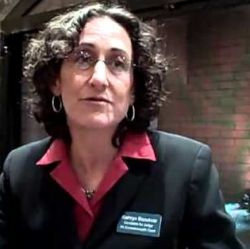 Fitzpatrick also holds a significant cash on hand advantage against his opponent, who is a frequent victim of election results.
With $400,000 over the three-month period, Fitzpatrick raised as much as Schwartz but his challenger wasn't far behind. Boockvar picked up $330,000, giving her two back-to-back strong quarters since entering the race in January.

Fitzpatrick maintains a substantial advantage with $1.2 million in cash on hand compared to Boockvar's $421,000.

He's taken in $1.87 million for the entire cycle. Boockvar, who had only six months to raise funds in comparison to Fitzpatrick's year and a half, has taken in $660,000.
$21,000 of Boockvar's money came from the Democrat Loser Committee (DCCC).  Don't spend it all in one place.