American Spectator has discovered that the first call Mike Huckabee took on his snoozy new radio show was staged.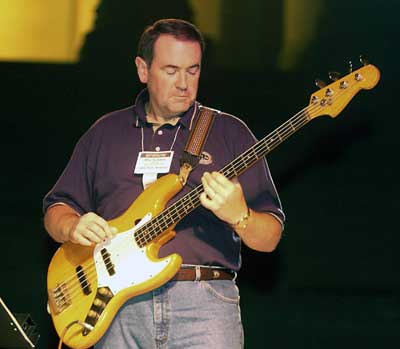 The caller, who Huckabee identified to his listener as "Mike from San Francisco" was Mike McVay, an executive at Cumulus Media Network, the radio company syndicating Huckabee's show. The deception was verified by McVay's boss in an email to American Spectator.
Huckabee started radio this week broadcasting in the noon to 3PM time slot dominated by Rush Limbaugh.
No one has reported whether any actual callers brought up Maurice Clemmons, the convict who killed 4 police officers in Tacoma Washington after being given clemency by then Arkansas Governor Huckabee for earlier crimes.  Huckabee will surely fail in challenging Limbaugh on the airwaves, but he has the edge on Limbaugh when it comes to errors in judgement. Limbaugh's mistakes don't have a body count.
Here's the way the astroturfed exchange went down:
HUCKABEE: "Alright, we're going to go to the phone lines and we've got a call from Mike in San Francisco. Welcome to the Mike Huckabee Show, Mike."

MIKE FROM SAN FRANCISCO: "Well Governor, let me start by saying it's great to have a different opinion and a different person on the radio and I'm very, very happy that you're doing this radio show. One of the reasons why I want to listen to your program every day is because you ran for office and you've been a politician, you have a different perspective I think."
McVay's boss claims that Huckabee did not know that the executive he'd spent weeks preparing his new radio show with was the same "Mike from San Francisco" he was having a conversation with on the air.  It's like Clark Kent and Superman, I guess.