A Nevada Assemblywoman has said she was told that Arizona rancher Robert "LeVoy" Finicum had his hands up and was cooperating when he was shot and killed during the arrest of a group that has occupied the Malheur National Wildlife Refuge in southeastern Oregon for nearly a month.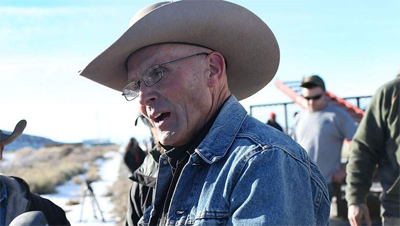 Nevada Assemblywoman Michele Fiore says she was told by the wife of occupation leader Ammon Bundy that Finicum "was shot three times while he had his hands up in the air."
Eight other members of the armed occupation group were taken into custody.   Ryan Bundy was also shot in the arm during the arrest.
I don't remember any members of the rape-happy unwashed "Occupy" movement being shot and killed with their hands in the air as they occupied public parks and other areas a few years back, but maybe they were being shot left and right with their hands in the air and I'm just hazy on the whole thing.
"It's very unfortunate, the only saving grace is there's six witnesses to it," said Fiore, a supporter of the Bundy family who called the federal Bureau of Land Management, one of the targets of the protesters' ire, a "bureaucratic agency of terrorism."

"My perspective is our government has acted lawless and we have got to stop," she said.

In a statement on the arrests, authorities said that shots were fired during the incident on U.S. 395. The injured person, whom Fiore identified as Ryan Bundy, was was hospitalized with non-life-threatening injuries, the statement said.
The group was occupying the refuge to protest the way the government manages federal lands.  The group was on their way to a public meeting when the arrest occurred.